Pinups in kimono are back for the festival! Please check the video above.
This update contain the newest premium set of styles and stickers, "Spring Festival" featuring Raychan, Myschan, Tylchan, Dolchan and Yatchan in kimono outfits for NChans Style and NChans Style+. Dolchan and Yatchan wear a specific outfit featuring fundoshi and drumsticks!
The second legendary pinup is Lawchan, Nindo Company's 9th muse and descendant of Ninchan. We are very sorry for the delay of this golden theme styles as Legendary Honchan is still not available on the app. We are working to have these premium styles ready for July.
To use the latest stickers, you will need to update NChans Style+ to version 2.2.5p.

Special Backgrounds:
Spring Festival:
Kimono Raychan
Kimono Pinups
Kimono Myschan
Kimono Tylchan
Kimono Myschan and Tylchan
Matsuri Dolchan
Matsuri Yatchan
Matsuri Dolchan and Yatchan
Stickers (NChans Style+ only, version 2.2.5p):
Legendary Lawchan (x2)
Evening Lawchan
Kimono Myschan
Pinups in Kimono
Kimono Lawchan (x2)
Matsuri Dolchan
Matsuri Yatchan
Duo Matsuri (Dolchan and Yatchan)
We will keep updating the app with more styles to come, both free and premium. Thanks and have fun using our NChans Style service!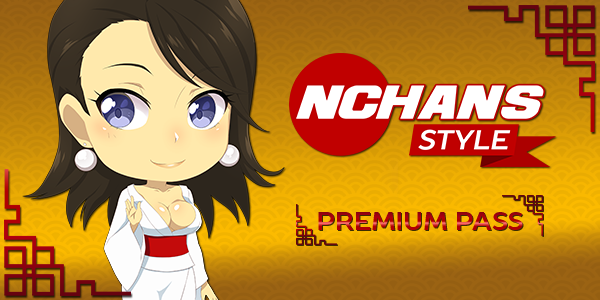 To use premium styles, you need the Premium Pass. This allow you to use all premium styles (Pinups Summer, Sweet Sweet Weddings, Bewitching Halloween and the futures premium styles) for an unlimited number of times without ads for a better user experience.
You can also purchase NChans Style+ and have the exclusive stickers feature to further customize your homescreens!