Pinups for Valentine's Day are ready to share love! Please check the video bellow.
With some late, here is the set featuring several pinups duo wrapped with ribbon to celebrate Valentine's Day! Look likes Katchan is with a pillow?…
With the release of NChans Style+ earlier this week, Ribbons of Love styles were already included. We may do earlier releases of futures styles for users of NChans Style+ exclusively. Stickers for widgets are also now available and exclusive to NChans Style+ users.
There still need a few works on NChans Style+, old styles are lacking titles and tags. We are working to update every style. We are sorry for the inconvenience.

NChans Style
Duo Mystery (Knichan and Zypchan)
Duo Racequeens (Joychan and Vimchan)
Duo Naughty (Tylchan and Neschan)
Duo Models (Myschan and Quachan)
Duo Elite (Depchan and Dolchan)
Duo Lolita (Vyschan and Pyuchan)
Ribbons of Love
Wamchan and Urachan (Ribbon)
Bibchan and Dimchan (Ribbon)
Katchan (Ribbon) (x2)
Rulchan and Grechan (Ribbon)
Woechan and Xeychan (Ribbon)
Ribbon Invitation
Ribbon Union
Ribbon Cuties
Ribbon Party
Special Backgrounds
All in One #1 (mosaic style featuring the best from 2020)
Nindo Company – Valentine Room
Special – NChans Icons B
Special – NChans Icons C
Stickers* (NChans Style+ only)
Chibi Amachan (Ribbon)
Bibchan and Dimchan (Ribbon)
Katchan (Ribbon)
Rulchan and Grechan (Ribbon)
Chibi Urachan (Ribbon)
Chibi Wamchan (Ribbon)
*This list does not include all the stickers also added from this update, today we are only refering to the newly added theme "Ribbons of Love".
We will keep updating the app with more styles to come, both free and premium. Thanks and have fun using our NChans Style service!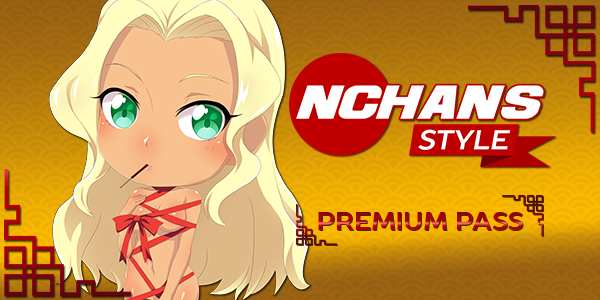 To use premium styles, you need the Premium Pass. This allow you to use all premium styles (Pinups Summer, Sweet Sweet Weddings, Bewitching Halloween and the futures premium styles) for an unlimited number of times without ads for a better user experience.
You can also purchase NChans Style+ and have the exclusive stickers feature to further customize your homescreens!